Baseball history is a treasure trove of stories that will be retold down the ages. Since the advent of film of course, many of them have been captured for all time. We, the fans, can watch them over and over, and create our own stories about them. Especially if we were there to see it, or were watching it on TV when it happened, we can add our own personal take one what the event meant to us as fans.
The following is a list of some of my favorite moments, all of which occurred during my lifetime, many of which I actually saw on TV. I could not possibly put them in order of anything resembling least to most memorable. I will not try, though some are obviously bigger than others:

1. Boston Red Sox, 2004 ALCS: The Red Sox overcame the "Curse of the Bambino" by winning their first World Series in 86 years in 2004, but it wasn't that moment that I will always remember from that season. It was the moment they finished off a 4-3 ALCS win over the Yankees to put them in the Fall Classic to begin with. Not only had the Red Sox suffered countless heartbreaks at the hands of the Yankees over the years (including just the year before) but in 2004, they were down three games to zero before going on a stunning, and unprecedented run of four straight wins to clinch that ALCS. Game 3 had been particularly brutal for the Sox, falling 19-8. I've always been interested in how that score gives a subtle nudge to "1918" the last time the Red Sox had won the World Series, not to mention that the whole "curse" began when the Sox sold Babe Ruth to the Yankees, so it was appropriate that they went through New York to break the curse.

2. Chicago Cubs, 2016 World Series: When the Cubs beat the Cleveland Indians to win their first World Series in 108 years, I did not miss a moment of the Series. Even when Game 7 went until about 1 a.m. and I had to work the next day, I stuck with it. The Cubs had been up 6-3 but blew the lead in the 8th inning. Not only did the game go extra innings but to add to the drama, there was a rain delay before the final frame. They put up two runs in the top of the tenth for an 8-6 lead, but gave up a run in the bottom half, and had a runner on with two outs. One swing could have taken it all away. But Michael Martinez grounded out to Kris Bryant to give the Cubs and all their "Please, just once in my lifetime!" fans the celebration they'd been waiting for since before World War I. What I will always remember about this moment was the replay in slow motion. Seeing that this was his chance to be an immortal hero if only in Chicago, Bryant's face suddenly beams in a big grin as the grounder rolls his way, and only gets bigger as he fields it and tosses to Rizzo at first base. By the time the ball was in Rizzo's glove, all-out child-like euphoria had erupted on Bryant's face. Moments like these are why they play the game to begin with, I think.
3. Gene Larkin wins the 1991 World Series: I am a Minnesota boy and a Twins fan, so the last time the Twins won the World Series has a special place in my heart. I have vivid memories of my brother taking control of my wheelchair and pushing me around the house as we both screamed with glee after Larkin, kind of a no-name utility player for the Twins at the time, became an immortal in Minnesota when he knocked a single into the outfield to bring Dan Gladden, and the World Series trophy home.
4. Kirby Puckett's catch and HR in Game 6 of the 1991 World Series: Okay so this is two things but kind of like I can't rank these in order of memorable-ness, I can't even separate these two in any way. Can't do it. Kirby Puckett was every Minnesota boy's favorite player during his tenure with the Twins. I first heard his name in 1986 and became a fan during their run at the championship in 1987, but in the 1991 World Series with the Twins on the verge of falling to the Atlanta Braves (at the Metrodome even!) Puck took matters into his own hands. First he made a leaping catch to rob Ron Gant of probably a double that would have put two runs in scoring position if not driven in a run. Then he ended game six with a home run off Charlie Leibrandt that tied the series at three games apiece. I'm watching it right now, and getting chills hearing Jack Buck announce "We will see you…tomorrow night!?" as the ball sailed over the fence.
5. Joe Carter's 1993 World Series-winning walk-off home run: I am a Twins fan, but really when it comes down to it I am a baseball fan. I treasure those moments that you might only see once in your life time. I re-live this one every October. When The Toronto Bluejays outfielder Joe Carter hit his World Series-winning home run off Phillies closer Mitch Williams, he did something that nobody had done since Bill Mazeroski of the Pirates did it in 1960, and nobody has done since. The sheer joy of Joe Carter in this moment makes it absolutely timeless. Side note, it was probably one of the loudest moments in baseball history. Once again, chills. The Toronto Skydome was known to be the echo chamber of Major League Baseball.
6. 1989 World Series Earthquake: In 1989, the entire World Series was played in the earthquake-prone San Francisco Bay Area when the Giants faced the Oakland Athletics. Just before Game 3, the camera began to shake, then the broadcast went in and out, then the screen went blank. Then there was a graphic that simply said "World Series" on the screen for several minutes while the audio feed came back and announcer Al Michaels tried to figure out what to do next. This was an odd one because I don't remember whether the video came back eventually or if they just went off the air. Obviously there was no game that night, but one of the enduring images I have of the event, I think came from a Sports Illustrated cover from the aftermath, with Giants pitcher Kelly Downs carrying a kid to safety. It was one of those moments when we realize that the game doesn't really matter as much as we might think it does. The kind of moment when these athletes, these superstars, become human once again.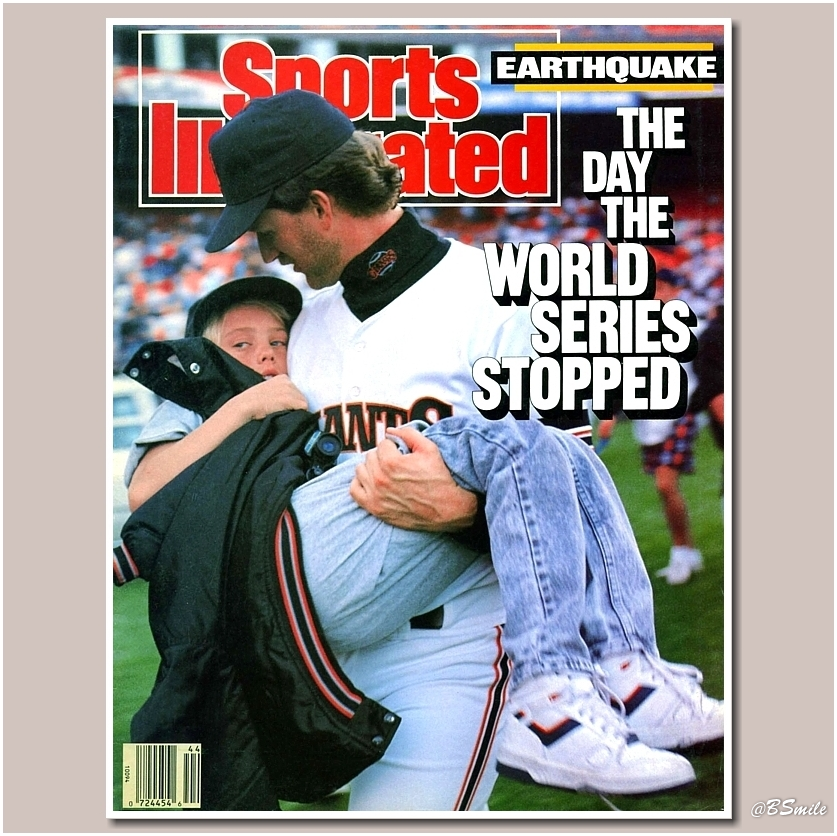 7. George Brett's Pine Tar Bat Flip-out: George Brett played ball with a fire that we hadn't seen since Pete Rose in his younger days, and we wouldn't see again, arguably, until Bryce Harper came along. The game mattered to him. This is probably why he came the closest to finishing a full season with an average anywhere near .400 in a very long time. So whether there was too much pine tar on his bat or not that day in 1983, Brett vehemently felt there was not, obviously, or he was really putting in an Oscar-winning performance in his protest. Either way, that fire in his belly that brought him screaming out of the dugout to argue with the umpire was the same fire he played with all those years that made him a legend. Plus I just like watching players flip out, I guess.
8. Nolan Ryan vs. Robin Ventura: This, simply put, is just the funniest moment in the history of baseball for me. Robin Ventura of the White Sox was 26 years old at the time. Nolan Ryan of the Texas Rangers, was a living legend, 20 years Ventura's senior, and a couple of months away from retirement. He had nothing to lose, didn't give a damn, and he certainly wasn't going to take any crap from any punk kid. So when he hit Ventura with a pitch, and Ventura charged the mound, Ryan took the opportunity to teach the kid a valuable lesson by putting him in a headlock and rearranging his face for him.
9. Armando Gallaraga's non-perfect game: It is hard to call this a favorite, because it was really unfortunate. Gallaraga of the Detroit Tigers was one out away from a perfect game against the Cleveland Indians in 2010, when he got the 27th batter to hit a grounder to the right side. Gallaraga covered first base and took the throw seemingly in time, stepped on the bag, and began to put his hands up in triumph when he realized the umpire Jim Joyce called the batter safe. Detroit manager Jim Leyland came out to issue a fiery rebuke of the call. But it was too late. It goes down in history as a one hitter. Jim Joyce took the protests from coaches, players and fans with grace, and the next day he tearfully met Gallaraga on the field face to face when he took the lineup cards from each team. It was inspiring to see how he owned up to his error, but equally inspiring to see how Gallaraga took it in stride even while so many others could not accept that what was done was done even after the game was over.
What are some of your favorite baseball moments that you've witnessed in your lifetime?